TRAVEL
Naoshima Travel Guide: Everything You Need to Know for a Trip to Japan's Art Islands
︎
A world class museum doubles up as a hotel, cutting edge modern art flows along the coastline, and disused buildings are transformed into pop-up galleries. Just a snapshot of what to expect from Japan's Art Islands.

Located in the Seto Inland Sea, Naoshima, and neighbouring island Teshima, are home to artworks from the likes of Yayoi Kusama, James Turrell and Lee Ufan. The majority of the galleries on the island are designed by world-renowned architect, Tadao Ando, in his signature brutal and minimal style. The architecture itself often becomes the art, blending into the landscape and interacting with natural light as the days pass. The creative energy is felt around every corner, and with modest shrines and temples, and local fishermen going about their daily lives, it's a truly Japanese affair.

You don't need to be an art expert to enjoy a few days on Naoshima, with bike rentals available and plenty of free activities, as well as quirky bars and cafes, it's an ideal addition to any Japan itinerary. Here's my top 7 locations as well as some tips, tricks and local highlights to help you along your way.


1. Enhance your senses at the Naoshima Pavilion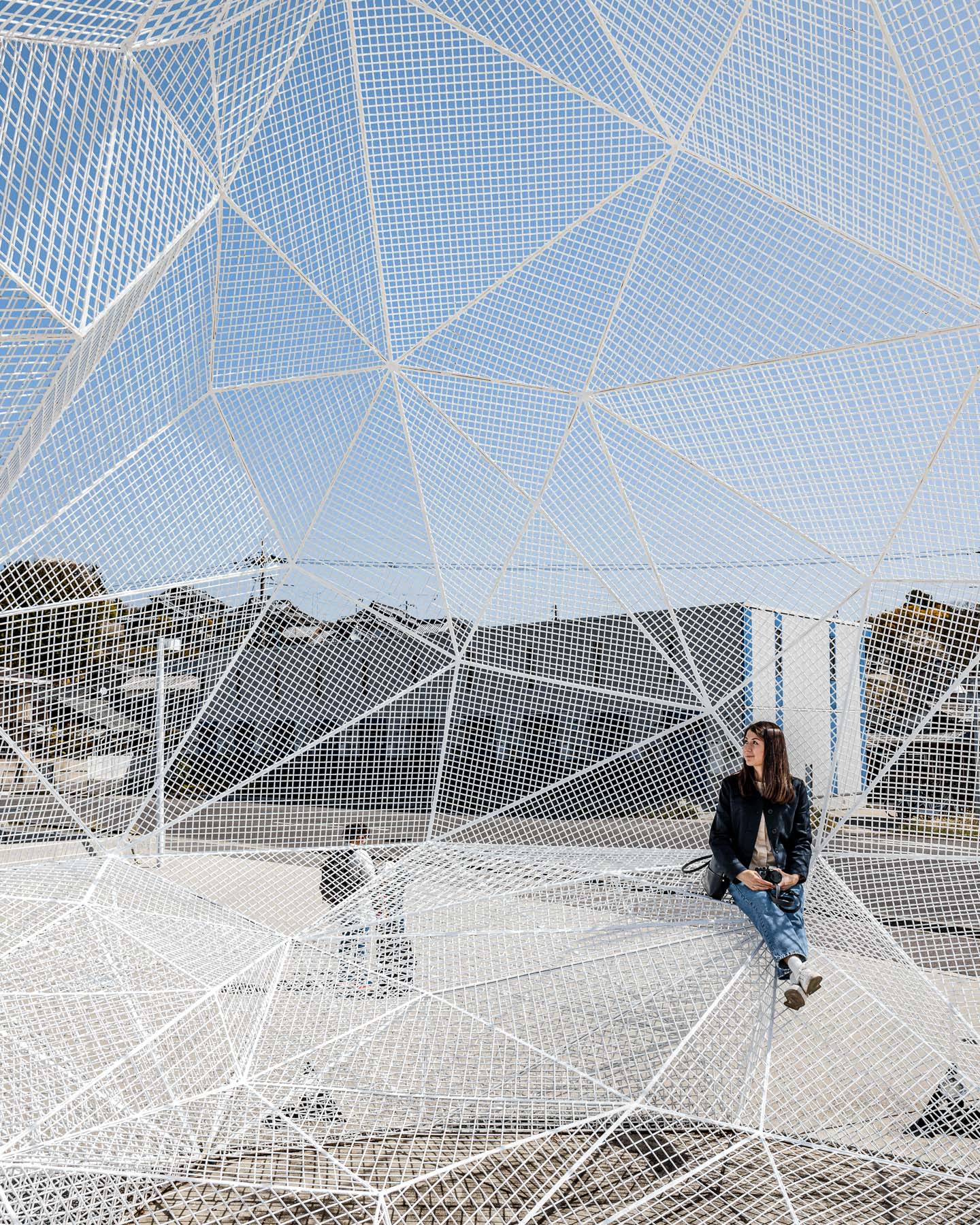 Designed by Sou Fujimoto for the 2016 Setouchi Triennial, this crystal-like 'island' was created to provide an escape from the hot summer sun. The mesh outer structure and irregular shape creates playful shadows and allows the wind to breeze through, as well as creating endless opportunities for vantage points to view and photograph it from. The exterior walls allow the sound and smells of the port to enter, and with your vision obscured, your sense of sound, touch and smell are enhanced, making it a fully immersive experience.
2. Spend a night at the museum at Benesse House
Designed by Tadao Ando, Benesse House is split across four main buildings – the Museum, Oval, Park and Beach, and also doubles up as the island's resort hotel. The art itself is created in response to Naoshima's natural surroundings, including nearly twenty installations dotted around the lawns, beaches and cliff edges. You could easily lose track of time here, with on-site restaurants, cafes and shops. Hotel guests also have 24-hour access to the museum, as well as spa facilities and free shuttle bus service between galleries. Room rates start from around ¥30,000 per night, and during peak times the hotel can get booked up quickly, so be sure to plan ahead.
3. Feast your eyes on Yayoi Kusama's iconic Yellow Pumpkin
Arguably the most iconic installation on Naoshima, and definitely the most photographed, the Yellow Pumpkin by Yayoi Kusama was installed for the island's first ever public exhibition back in 1994. At the current age of 92, Kusama started drawing pumpkins from an early age. It was when she started experiencing hallucinations that the idea came to life, with her signature colours and polka dots becoming her trademark style. A lesser known story is that the pumpkin was once hurled into the sea during a typhoon and was rescued by a local fisherman. Since then, whenever a storm hits, it is safely removed from its pier and taken inside to safety.
4. Look to the sky at Chichu Art Museum
Another example of Tadao Ando's immaculate concrete architecture, the Chichu Art Museum (地中美術館), is built mostly underground and designed to integrate seamlessly into the landscape. Artworks include impressionist paintings by Claude Monet, a dramatic space by Walter De Maria including a huge black granite sphere, and light-bending installations by James Turrell. The interplay of natural light throughout the day makes Chichu an artwork in itself, providing a unique viewing experience at any given time. Advanced booking is required, so make sure to visit earlier in the day or book online for a time slot.
5. Appreciate the simple details at the Lee Ufan Museum
Located in the hillside between Chichu Art Museum and Benesse House, the Lee Ufan Museum (李禹煥美術館) is dedicated to the art of the Korean-born artist. Artworks made from stone, concrete and iron are displayed in the combined indoor and outdoor space, as well as paintings from Ufan's earlier years. The museum itself is another example of collaboration between artist and architect, and the Seto Inland Sea provides a calming backdrop to what feels like a remote location, allowing visitors to forget the bustle of everyday life.
6. Take a seat in a cloud-like passenger terminal
As well as designing Naoshima's main ferry terminal, Japanese duo Kazuyo Sejima and Ryue Nishizawa aka SANAA have created this small passenger terminal inspired by a cumulous cloud. The concept is simple: it needs to be easily recognised by visitors and locals when they are bound for the ferry port. Safe to say you can't miss it. The terminal is located on the residential Honmura side of the island, and creates another unique landmark that can be enjoyed by visitors arriving to the port via boat. Another example of unconventional design on the island, the terminal even glows like a beacon when illuminated at night.
7. Experience ultimate calm at Teshima Art Museum
The brainchild of artist Rei Naito and Pritzker Prize-winning architect Ryue Nishizawa, Teshima Art Museum is set amongst the neighbouring island's rice terraces. The serene location is formed by an outer concrete shell, with large oval openings allowing light, wind and sounds of the surrounding nature to enter. Take off your shoes and tip-toe around tiny water droplets, constantly changing appearance and gathering in the centre of the polished concrete floor. This space really is a truly meditative experience, with noise required to be kept to a minimum and a limit on numbers. Take a seat, lie down, or slowly walk through at your own pace.


---
Tips and tricks for a visit to Naoshima

1. Rent electric bikes – My top tip. You won't regret it.
2. Book in advance – Be sure to check available time slots at the main galleries to avoid disappointment.
3. Beware Mondays – Most of the galleries will be closed.
4. Stock up on snacks – There are only two or three small shops on the island, so make sure you have plenty of fuel to keep you going.
5. Pick up an area map – Useful when cycling around the island to make sure you don't miss any hidden installations.


---
Best time to visit
Peak times are usually between April/May for Spring season, or between October/November for Autumn. These should both provide warm and dry conditions with plenty of cherry blossom or autumn leaves. If you're around for summer, be prepared for high humidity and the occasional downpour.

Getting around
Easily access Naoshima via ferry from neighbouring port towns, Takamatsu and Okayama, both of which are a short journey from Kyoto and Osaka (Kansai Area), or a 1.5 hour flight from Tokyo. Regular boats also run between the islands, including Naoshima and Teshima, costing around ¥1,200 (£10). With only one or two main roads, and infrequent buses, renting electric bikes is highly recommended (be prepared for the hills!). Guests at Benesse House can also use the free shuttle bus service between galleries.

Local highlights
As well as gallery and hotel restaurants, there are plenty more to chose from. Our favourites were Ishii Shouten for an udon lunch, Cafe Nakaoku for the best curry omelet, Shioya Diner for a classic outdoor barbeque, Mikazukishoten for craft coffee and Cin.na.mon for their specialty seafood curry. Smaller galleries include the Ando Gallery, dedicated to the art of the man himself, and the Naoshima Art House Project, transforming empty houses into art installations (accessible via the one-day art pass). Another staple is the I Love U Bathhouse, located opposite the main ferry port. A day trip to Teshima is also highly recommend, including visits to the Teshima Yokoo House and Teshima Art Museum.
Photography and words by Ben Richards
---
---