HOTELS
Hoshinoya Kyoto: The Ultimate Japan Experience
︎
If you are looking to experience Japanese culture and design at the highest level your first port of call is likely to be Kyoto. The once ancient capital has a rich and storied history, and is famed for its centuries-refined crafts, impeccable zen gardens and magical shrines and temples.

Nestled within the river banks of the serene Arashiyama Gorge, Hoshinoya Kyoto is at the peak of that Japanese experience. A seamless fusion of Japanese tradition, and comforts demanded by modern times, the resort is isolated from the outside world and provides an other-worldly journey from start to finish.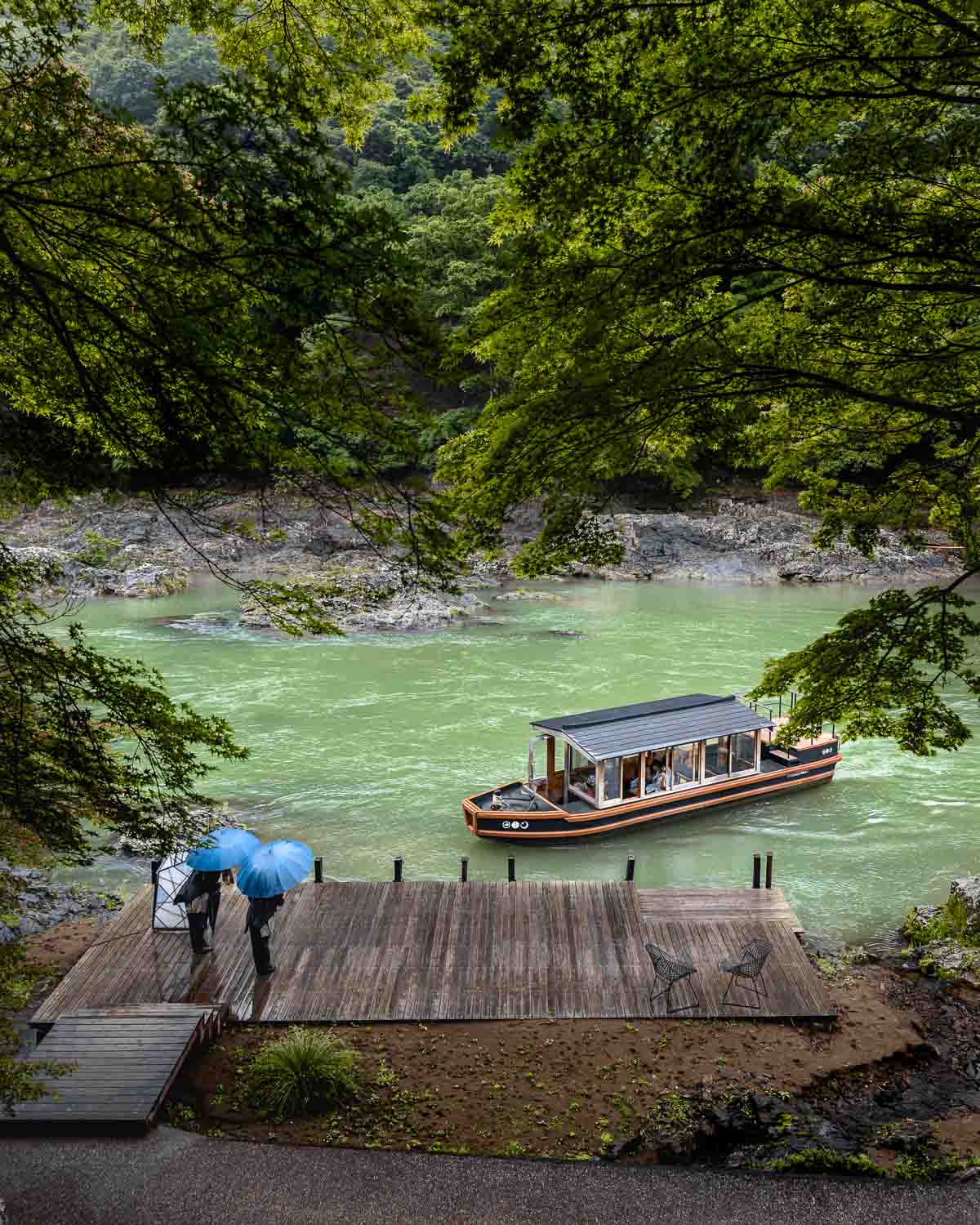 Guests access the property via a 15 minute boat ride, providing a taste of the extraordinary that is to follow. Arrival at the once 17th-century mansion begins with a bow and greeting from the resort staff as you are led up a moss-covered staircase, following the sounds of traditional Japanese musical instruments. More therapeutic sounds transcend from the waterfall flowing from the neighbouring gorge, re-inforcing the connection to nature along the way.

Designed by architect Rie Azuma, there are five different room types split across 25 guest pavilions, each with a unique floorplan and differing views of the river below. From cherry blossom in spring to the rich greenery of summer, and autumn's colourful leaves to the snowy landscape of winter, Hoshinoya places upmost importance on the changing seasons and connection with the natural landscape.

Intimate and private, each room feels more like a small house, featuring the highest level of Kyoto craft. Woodblock printed wallpaper by Kyo-Karakami Maruni creates textures only possible when crafted by hand. The signature 'Tatami Sofa' by Hinoki Kogei, encourages guests to experience the room's most beautiful appearance: at eye level when formally kneeling in traditional Japanese style. Japanese cedar and pine give the sofas distinctive characteristics and backrests are reminiscent of the nearby Bamboo Grove.

Upon check-in, enjoy crafting your own incense bag, making matcha tea, and transcribing ancient Japanese scriptures – a meditative experience, but please don't check mine for accuracy.

Landscape design by Hiroki Hasegawa plays on the traditional Japanese garden with a uniquely Hoshinoya twist, collaborating with metal craftsmen and utilising materials in innovative ways. Surrounded by towering Momiji maples, a morning meditation is hosted in the Hidden Garden, which uses roof tiles and white stone to represent a flowing river.

Dinner is served in the on-site restaurant, which feels like a small home in itself, with private dining rooms and impeccable service creating a space to relax and unwind. Executive chef Kubota has refined his own style of 'five-flavour keiseki cuisine', grounded in the essence of Japanese culinary culture, and uncompromising in technique and selection of ingredients.

Filled with a sense of tradition across all four seasons, Hoshinoya Kyoto is a place to experience unparalleled hospitality, whilst embracing a calm escape from the outside world.

Getting Around
All the usual routes can be taken to central Kyoto and trains take around 30 minutes from Kyoto station to Arashiyama. The landing point can be easily located at the end of the Togetsu Bridge, and is a short walk away from both Arashiyama train stations. Once at the resort, boats are available for guests and run back to the docks between 8am and 9pm.

Local Highlights
Arashiyama is blessed with some of Kyoto's top tourist spots, including the iconic Bamboo Grove, and two hour boat rides can be taken around the river itself. Local restaurant highlights include Shoraian, located deep in the forest and serving a high-end kaiseki menu, Unagiya Hirokawa, serving unagi (eel) delicacies in a traditional townhouse, and Arashiyama Yoshimura, the area's most famous soba restaurant.

---
---